For businesses who produce their own products, the manufacturing process is fundamental to their success but can also be extremely complex. On a small scale, manufacturing is often managed through hurried emails, notes and other communications. But, when a business starts to grow and orders from clients are coming thick and fast, these basic systems can become unmanageable resulting in missed product deadlines and even unhappy customers.

However, by digitising the manufacturing process the chance of mistakes being made is greatly reduced and you'll get added benefits from the data that becomes available at your fingertips. This extra insight gives businesses the ability to plan better, work more efficiently and scale their manufacturing operations in a streamlined way.

Odoo's Manufacturing module is perfectly suited to giving your business these benefits, and we're going to explain some of the features you can expect.
Manufacturing Order Management.

You'll have access to real time data about your manufacturing operation with just one click, enabling your management team to have an overview of activity. From here you can create new manufacturing orders, set up work orders to create component parts, or service items under warranty with repair orders.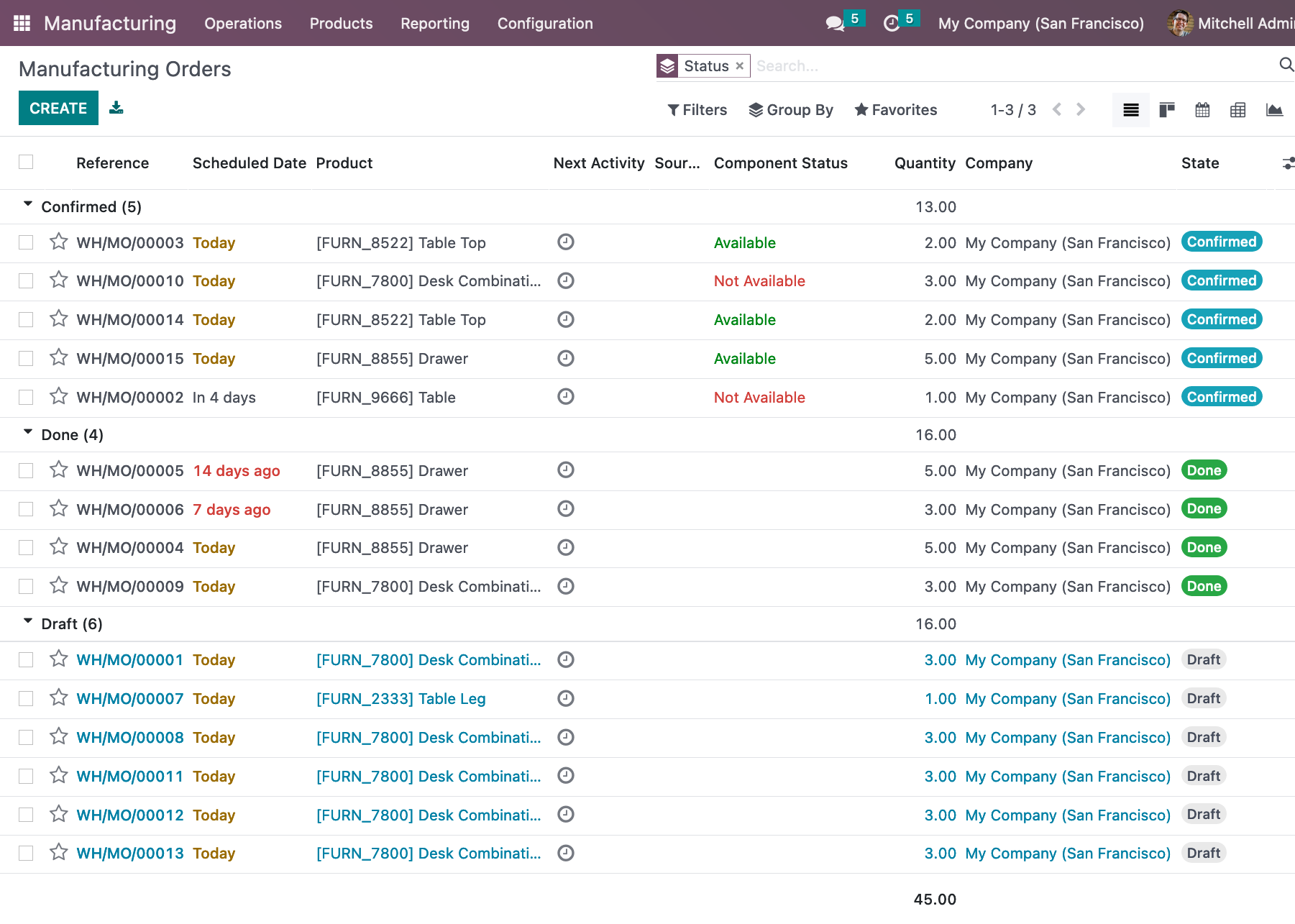 As well as this, you can create detailed analysis reports, overviewing your entire production line and providing ongoing performance analysis. The Odoo Business Intelligence engine can even suggest alternative production strategies to help you optimise your operations.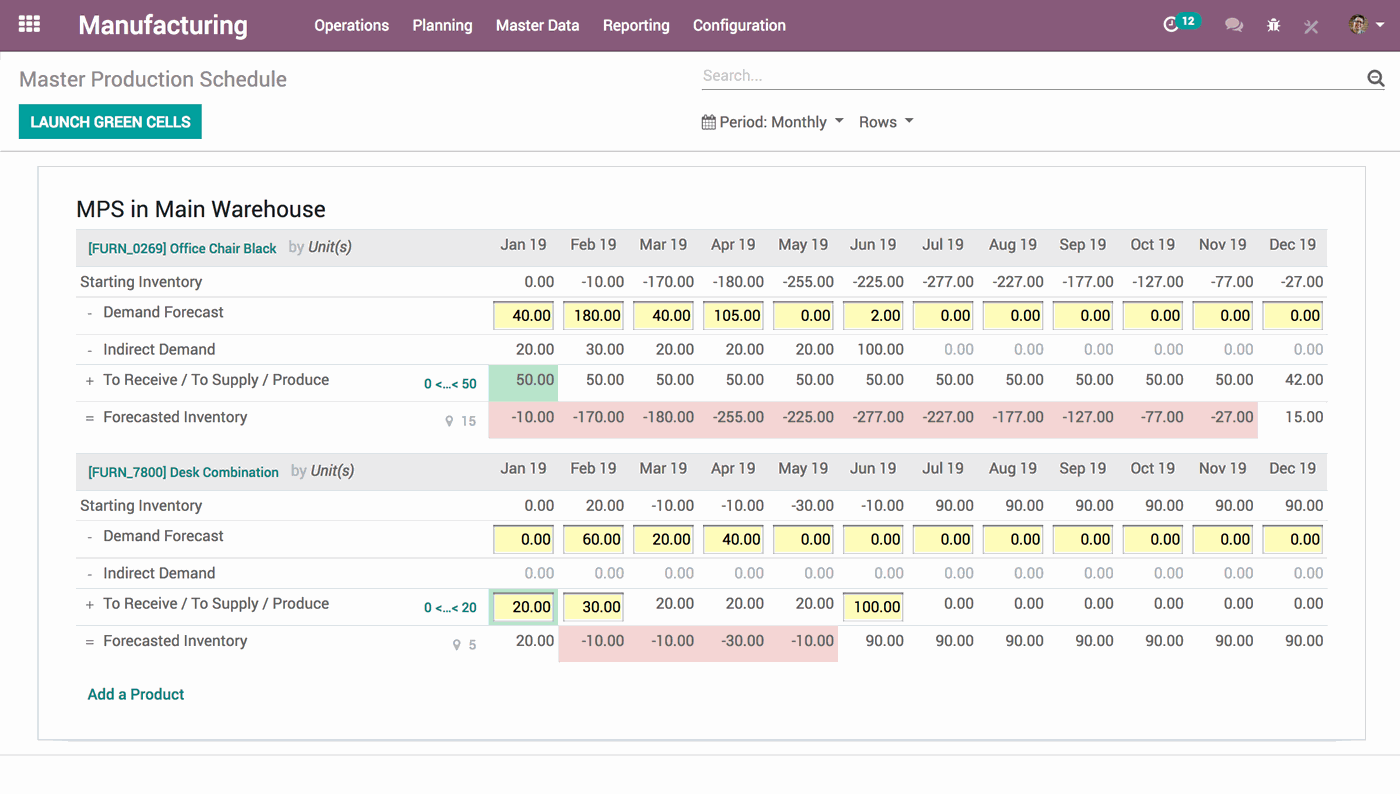 Planning is vital to streamlined manufacturing, and from inside Odoo you can get a clear view of your whole operation. You can control component inventory, examine your scheduling and better coordinate your distribution, leading to more deliveries happening on time and more happy customers.
Looking ahead, you can find out where bottlenecks might occur and reschedule production where necessary to satisfy orders. The system allows you to organise work orders, with all the necessary information at your fingertips, plus managing bills of materials is simple and straightforward, so you can keep track of items you have in stock and the necessary production time.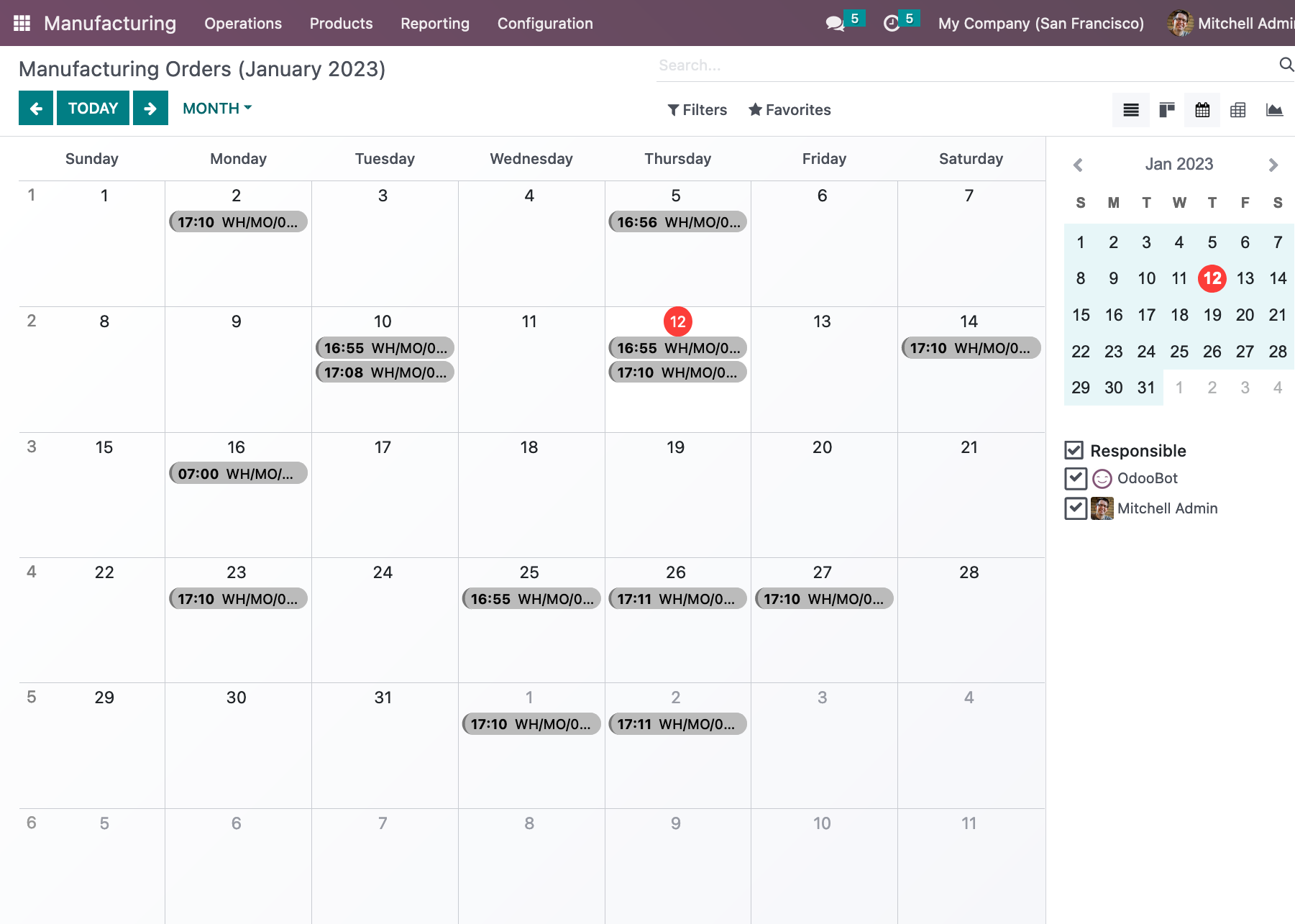 Bill of Materials - product configuration
Bill of Materials - product configuration
Odoo is configurable to reflect your manufacturing process and products. You can define a detailed bill of materials of the components needed create each of your products, including all the stages and resources in the process across different production sites.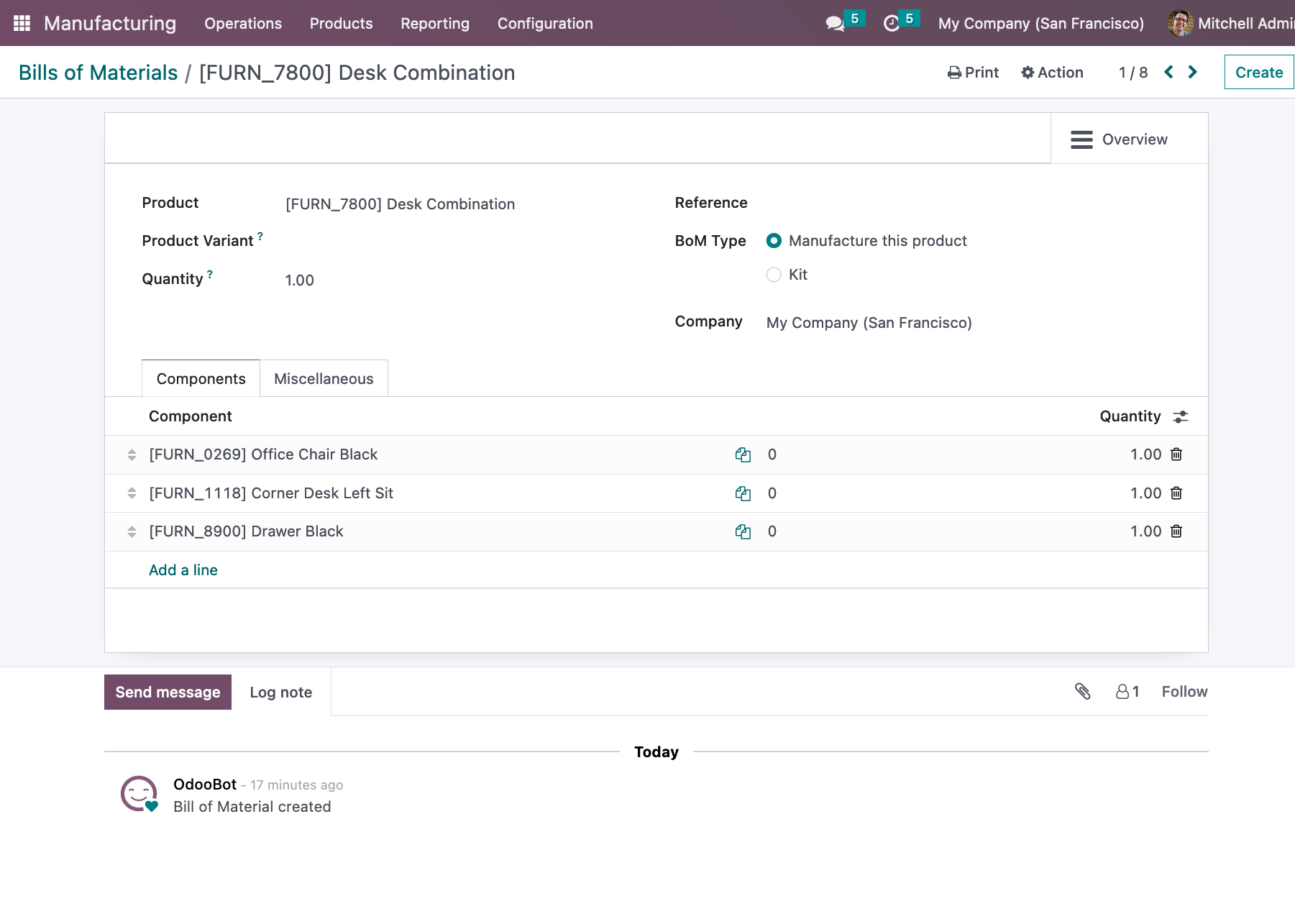 Some products may be complex, so you can create multi-level bills of materials, manufacturing components for a particular product within another bill of materials. Additionally, you can set up your preferred routing to ensure the sequence of your production is correct for your operation.
As your products evolve over time to meet the needs of your customers. with each manufacturing order order you create you can add new BOMs and configurations and track version changes.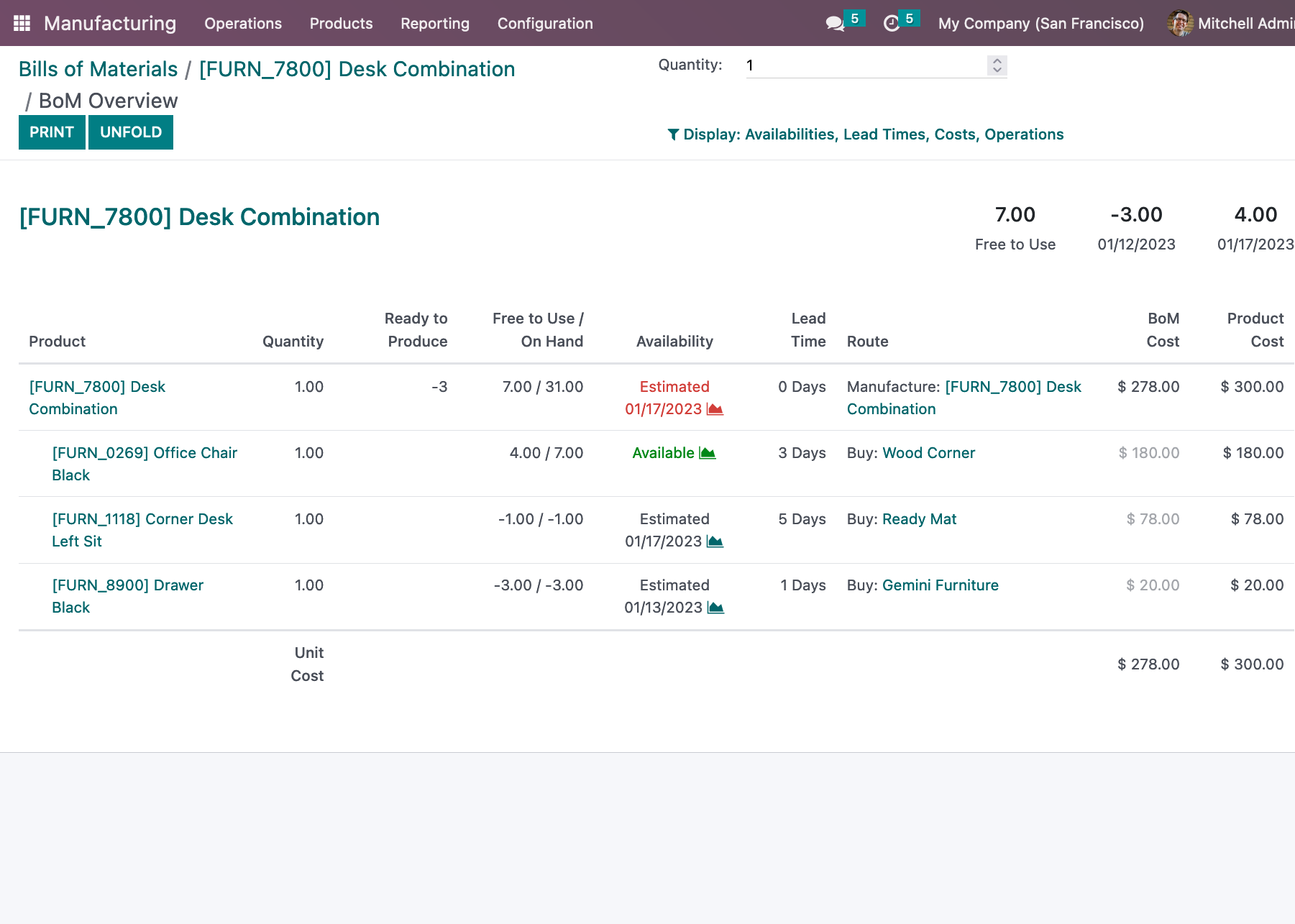 Manufacturing products efficiently is great, but making sure you don't end up with low quality output is vital too. Using Odoo's tools, you can set up quality inspections at any point in the manufacturing process - whether that be final checks or part way through. If any problems are identified, the system helps to narrow down the source of the issue and the stage of the process where it is occurring.
Add control points to trigger quality checks and audit any issues with a few simple clicks. Plus receive quality alerts at the management level to quickly draw your focus to any problems so they can be resolved, ultimately improving customer satisfaction.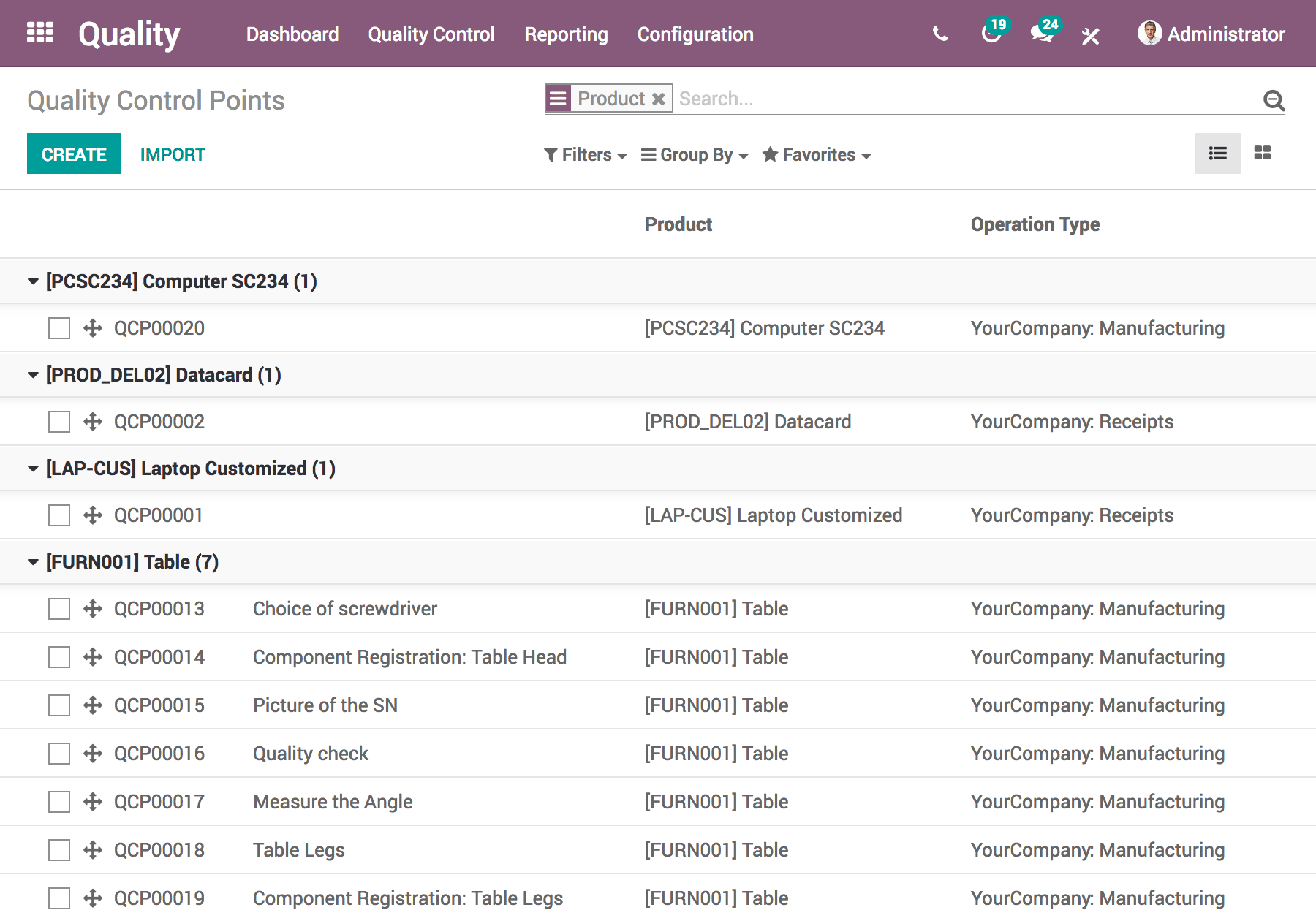 Work Centre control panel
Odoo's manufacturing module isn't just for management either - it gives teams working in the production process access to real-time information and instructions through tablets on the factory floor. Teams can register productions, scan products, lots or serial numbers, access worksheets and instructions, create quality alerts and perform checks - all while on the go.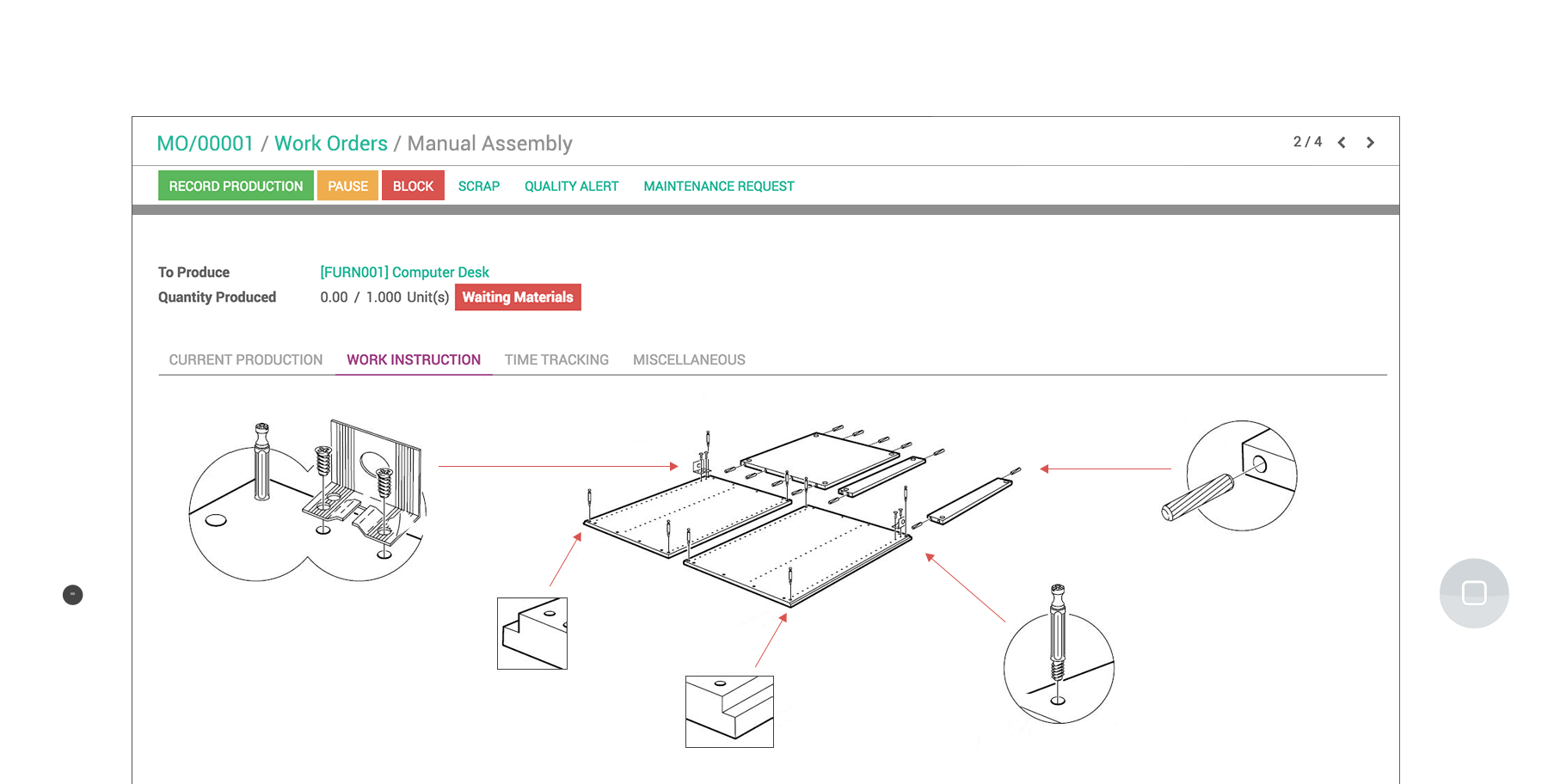 How can Odoo transform your business?
Please get in touch to discuss your visions, ideas and requirements. After an initial discussion we can configure a free 30 day trial system hosted on Odoo.sh configured to your initial requirements or business case.